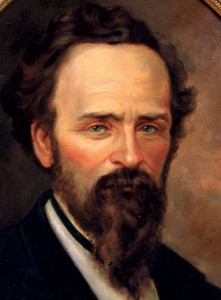 Linus Yale invented pin tumbler lock also known as Yale lock. Linus Yale, was born in Salisbury, New York, on April 4, 1821. During his childhood, Yale was inquisitive about lock and keys, as his father Linus Yale Sr., opened a shop and began to manufacture bank locks in Newport, N.Y., during 1840. His father, Linus Yale Sr., was a successful lock inventor.
During 1840s Yale invented one of the first modern locks based on pin-tumble design. He opened the Yale Lock Shop in Newport, New York and Shelburne, Massachusetts, in 1847 and 1860 repectively. His lock shop in Shelburne Falls, developed Yale Magic Bank Lock and the Yale Double Treasury Bank Lock. In 1862 he introduced the combination lock.
Yale's shops specialized in bank locks. Linus Yale invented the "Yale Infallible Bank Lock" for safes and vaults.
Yale Lock Manufacturing Company
In 1868, he founded a lock company with Henry Robinson Towne called the Yale Lock Manufacturing Company in the South Stamford, CT. The name of the Yale Lock was later changed to Yale & Towne. Today, Yale lock company is owned by Assa Abloy, a Swedish lock manufacturer.
Yale patented more than 20 lock designs and mechanisms, first on 6 May 1851 (Pat. #8071) in Newport, New York.
Yale Lock or Pin Tumbler Lock
Yale's most important invention is the cylinder lock, based on the pin-tumbler mechanism. The pin-tumbler lock mechanism is derived from primitive forms of tumbler locks used during 4000 BC in Egypt. It consisted of a wooden post affixed to the door, and a horizontal bolt that slid into the post that was used as the key. In 1848, Linus Yale, Sr. invented the modern pin-tumbler lock which was later modified by Linus Yale, Jr. in 1861.  Linus Yale, Jr. modified the original pin-tumbler lock designed by his father, by inventing a smaller flat key with serrated edges as well as pins inside the lock itself. The modified design was patented by Linus Yale, Jr. and the same the pin-tumbler lock design is still being used even today.
Yale patented his cylinder pin-tumbler lock in 1861. Yale was awarded by National Inventors Hall of Fame, Inducted 2006. Yale died of a suddent heart attack in the same year, the Yale Manufacturing Company was founded.